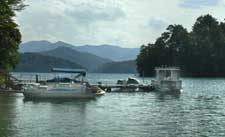 High above the Nantahala Gorge, at 3,000-foot elevation — and far away from the whitewater river activity — is the pristine and serene Nantahala Lake. And some of the most attractive North Carolina mountain real estate you'll find.
With just 29 miles of shoreline, Nantahala is a relatively small lake. Created at the beginning of WWII to supply power for the wartime industry, the reservoir and power plant are today part of the Duke Power Company system.
Nantahala is a fisherman's paradise. In fact, it's is the only North Carolina lake with fresh water salmon.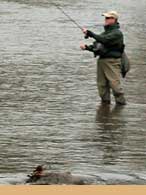 The Cherokees named it "Nantahala" (land of the noonday sun) after the deep gorge that's shadowed by the surrounding mountains.
Vista at Nantahala Lake sits high in the mountains above the gorge.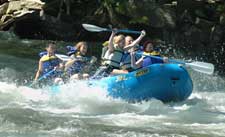 The shoreline is dotted with private homes and cabins, yet much of this NC mountain property is public, managed by the US Forest Service and the North Carolina Wildlife Resources Commission …which also maintains one of the lake's two public boat launching areas.

Below the dam and above the gorge, the Nantahala River tumbles down the mountainside creating some of Western North Carolina's most spectacular cascades and waterfalls — and some of the South's most celebrated trout-fishing waters.

And it's all at your doorstep when you have a home in Vista at Nantahala. This is North Carolina mountain real estate at its finest.
Your Mountain Home | Lake Access for Homeowners
Homesites | Location | The Lure of Nantahala | Contact
Check out our other Western North Carlina mountain properties
Sunset Vista
Valley River Vista


Vista at Nantahala Lake
Nantahala, North Carolina
Email Info@NorthCarolinaLake.com
Phone: 407-846-7445
Mail: 1101 Miranda Lane,
Kissimmee, FL 34741